About LED IN FLAT products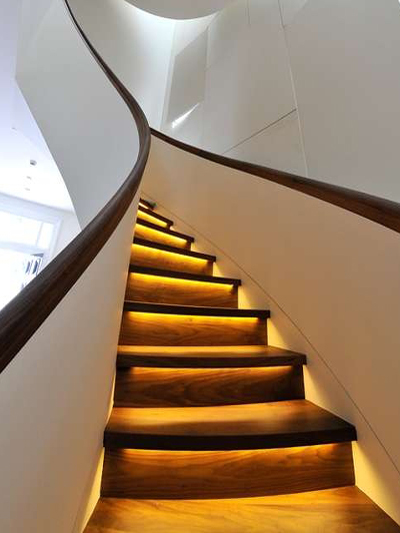 Staircase lighting is a new unique product! With automatic stair lighting controller your usual stairs will turn into elegant one. None of the "smart home" will not be "smart" if it is not "smart ladder".
The device is a lighting controller, which comes bundled with two motion sensors and photo-resistor. Motion sensors are usually mounted at the beginning and end of the ladder. A man while walking up the stairs touches the ray of the motion sensor and turns on a "smart ladder". The length of the beam individually adjustable from 10 cm to 2.5 meters.
Then the recessed lighting, or LED ribbon, start smoothly switch on one after the other with an illumination the path ahead. Lightnings and LED ribbon are attached under the lip on stage.
You choose the color of the LED lamps or LED strip. Usually people chose warm colours for the house.
An automatic illumination of stair steps can be used in lighting of corridors, park, garden paths and galleries.
You can also highlight the area on the stairs. Even the most beautiful staircase in the world will become several times better with clever lighting.
Each client sets the illumination rhythm individually for the staircase. You can fully adjust the overall brightness of the stairs.
There are so many advantages of this device and one way or another related to safety on the stairs at home or at the cottage.
You can see the steps and forgotten items on it.
The first and last rung of the ladder are slightly illuminated in the dark and it becomes clear where to put the foot.
You do not flip the switch several times and not creating noise late night.
Familiar ladder becomes interactive and impresses others.
Smart Steps is switching off in the evening and switching on in the morning.
LED strip is consuming energy less than one regular incandescent bulb and saving your money. Such strips have great durability.
Lighting controller, power supply and all the thin wires neatly hidden under the ladder.
Photo-resistor should be placed in the lighted area to detect the time of day. It might be a window.
Light on the step is very convenient especially when there are children , elderly parents or pregnant wife in house.
You can have a wet cleaning because the silicone shell of LED strips will protect and will not cause any damages.
You can order the installation of "smart" lighting in you home by calling us or writing on the website.
Your neighbors and friends will be impressed by your choice.
2 years waranty.